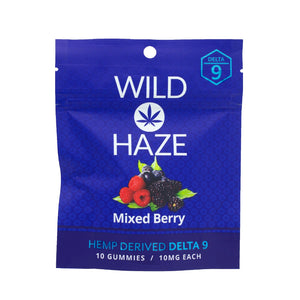 Who doesn't love a weed gummy or edible from time to time?
Try Wild Haze's hemp derived delta-9 THC gummies! Each gummy has 10mg of THC, and 10 gummies come in one Wild Haze bag. This is a standard dose so that anyone from a seasoned pot head to a beginner can enjoy.
Not only are they the perfect dose, these THC gummies taste like sweet and delectable mixed berries. Guaranteed to make your mouth water. Just don't eat too much when you get the munchies!

The THC contained within these gummies are isolated and derived from hemp and each gummy contains less than 0.3% delta-9 THC - making this product 100% complaint with the federal 2018 farm bill. 
THC gummies vs. CBD gummies

So what is the difference between the Wild Haze hemp derived delta-9 THC gummies and the Green Haze CBD gummies?
The main difference is that they use different cannabinoids. THC binds to different receptors and has different effects than CBD. The main similarity is that they both come from hemp in our gummies. 
Another difference is that the Green Haze CBD gummies have three different shapes and many different flavors such as spicy habanero. Wild Haze THC gummies only come in mixed berry in a standard round shape.
All in all, if you seek a more subtle effect with more flavor options go for the Green Haze CBD gummies. However, if you want a gummy with a kick, you gotta try the Wild Haze hemp derived delta-9 THC gummies. 
Are Wild Haze THC Gummies Indica, Sativa, or Hybrid?
Wild Haze gummies use a delta-9 THC extract, which is derived from extracting hemp. This process results in a pure oil, but what is lost is any strain specific effect. There is nothing that makes these gummies more indica or sativa, so in that sense you could call it a hybrid or a middle ground between all the strains. These THC gummies provide a clean and mellow satisfaction. 
Where can't I buy Wild Haze hemp derived delta-9 THC gummies?
Wild Haze does not sell their hemp derived delta 9 THC gummies in California, Colorado, Utah, Washington, North Dakota, Kentucky, Vermont, and Pennsylvania.

Please allow 1 business day processing time for orders placed after 10am CST.
PRODUCT DETAILS 
Product Description: Enjoy a satisfying edible experience with our THC gummies. We utilize hemp derived delta-9 THC with no other cannabinoids to provide a clean, legal, and fun experience. Our hemp derived delta-9 THC infused gummies are good to eat straight out of the pack with a recommended dose of one gummy. 
Potency: 100MG per pack of 10 gummies (Approximately 10MG per gummy)
Intended Use: Edible/Oral 
Country of Origin: USA Grown Hemp

Flavor Profiles: Sweet mixed berry
Transparency: We 3rd party lab test every single batch that we create to ensure transparency is our number one goal. We want to formulate a simple and clean product.
SUGGESTED USE
1 chewable gummy is one serving
Start slow with a single serving of our THC gummies at a time and see how you feel from there. 
Although we can't tell you exactly how much THC you need, we suggest starting with 1 THC gummy per day.
We advise newcomers to start with a low dose THC gummy, such as 10 milligrams a day. 
INGREDIENTS
Ingredients: Pectin, Organic Cane Sugar, Organic Tapioca Syrup, Hemp Derived Delta-9 THC, Organic MCT Oil, Organic Mixed Berry Concentrate, Organic Color, Citric Acid. 
Added Flavorings: Natural Mixed Berry Flavoring.
LAB RESULTS
For the most up to date Lab Results for Gummies, click here.
Share this product