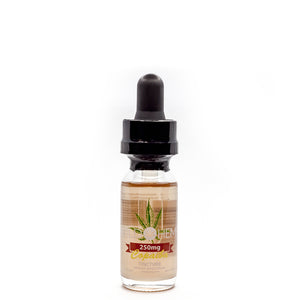 Our 250 MG CBD tincture is best for those just needing a taste and a great way to introduce them to its wonderful benefits. 
Our tincture is composed of a rare Brazilian copaiba essential oil extract, peppermint oil extract and pure coconut oil. With the combination of BCP being present in the copaiba extract and CBD from our hemp oil extract, we were able to increase the overall effectiveness due to its synergetic effects. Furthermore, peppermint oil promotes digestive health and tastes great! Ready to be taken orally for your convenience.
The Copaiba CBD tincture is suitable for vaping, adding a few drops under the tongue or infusing in your favourite food or beverage. The BCP found in the Copaiba works synergistically with the CBD found in our hemp oil extract to increase the overall effectiveness. Whilst the premium quality peppermint contains natural anti-inflammatory properties
Please allow 1 business day processing time for orders placed after 10am CST. 
You can find up to date Lab Report here. 
PRODUCT DETAILS
Product Description: We utilize many properties of the Hemp plant by using a Broad Spectrum Hemp Extract that not only contains CBD but a variety of terpenes that work synergistically together for maximum results. Although containing other cannabinoids, the percentage of THC in every product is under federal and state regulations.
Potency: 250mg per 15mL (approximately 16.7mg per ML)
Intended Use: Oral
Country of Origin: USA Grown Hemp

Extraction Solvent(s): CO2
Plant Part: Aerial parts of the industrial hemp plant
Transparency: We third party lab test every single batch that we create to ensure transparency is our number one goal. We want to formulate a simple and clean product providing "reliable relief."
SUGGESTED USE
1 dropper per day, we suggest half in the morning and half in the evening.
INGREDIENTS
Ingredients: Organic Fractionated Coconut Oil, Copaiba Extract, Hempseed Oil, Peppermint Oil, Natural Sweetener.
Added Flavorings: Peppermint Essential Oil
LAB RESULTS
Share this product